Knight-Kit Electronics presents the
Knight Kit Broadcaster Fan Page
This site is dedicated to the Knight-Kit Broadcaster.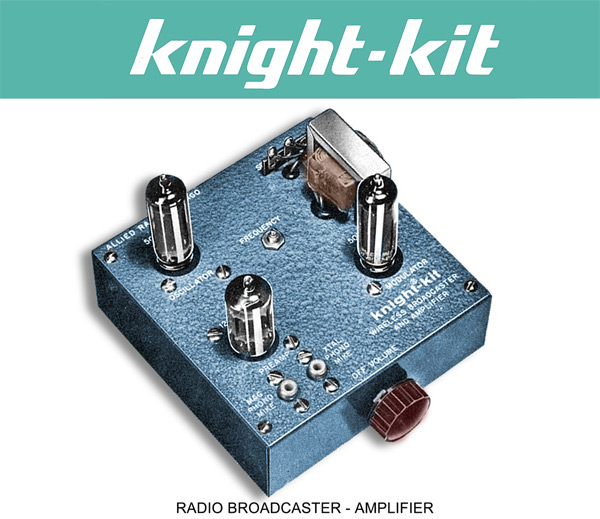 Buy the Manual - Downloadable PDF! New Lower Price, BOTH versions for $1.49!
Buy the complete manual set on-line - CHEAPER THAN eBay!
...see below
Welcome to the home of the Knight Broadcaster! Just a guess, but you're probably here because you personally built and operated one of these fascinating kits. You may have been introduced to electronics, radio, and even commercial broadcasting through your experiences.
This kit appeared in the Allied Radio Catalog and was a simple, low-cost, low-power AM radio transmitter. Thousands built and owned one from the mid 1950s through the late 1960s.
Looking for a Knight-Kit? Well, so are we! At this time we have NO Knight-Kit items in stock. We do find them occasionally, though. Check back! Note that it is extremely rare to find an un-built kit. Early everything we find is already built.
See our Knight-Kit Saga article in "Monitoring Times" July, 2011 issue!
We are revising this site, so please let us know what you'd like to see. We'd love to get an email from you with your own stories about building the Broadcaster and what it was like to be "on the air". Watch this site grow! New fan stories will be added from time to time.
New! Join the Electronic Kits Group! Add your comments, stories, favorite kits, etc. Not limited to Knight Kits! We'even talk about Heathkit, Eico, Dynakit (Dynaco), and others! Click here!
New! Want to actually build a new kit? We've got a list of kit companies for you! Click here!

Parts Kit: We need your help! Let us know what you would pay for the "impossible" parts, like the chassis, L1, T1, etc. Drop us an email. We need to know if there is enough interest to provide a set of crucial parts (it will not be a complete kit, though - remember the hot chassis issue?).

Update 8/9/2016: So far there has been too little interest to make this happen at a reasonable cost.

9/16/08 - We get mentioned in Radio World! See the article in the August 1 2008 issue! (pdf) Thanks to Jeff for pointing it out, and to John Bisset for writing it!

Help this site become the Knight-Kit Fan page! Send me your memories of building a Knight-Kit...any Knight-Kit, not just the Broadcaster...and I'll compile them on this site! What else did you build? Did you build a stereo or mono system? How about a CB walkie-talkie? Remember the 12-in-1 kit? Star Roamer? Ham radio equipment? Let's share Knight-Kit memories!

Ever wanted your own a new Broadcaster or fix an old one? Take the first step:
Buy the manual - complete, two versions! On-line download!
The Mystery Parts...here's as much as we know about L1 and C9 and T1

My Knight-Kit Broadcaster Memories

Help Rodger find this other "broadcaster"...
Color photos of the Knight-kit Broadcaster!
Ever wanted to build a Broadcaster from scratch? Dan did it! Read his story!
Which version did YOU have? Did you know there were more than one?
"Kit a Shining Knight" -- reprint of Radio World article
Want more? Links to other Broadcaster sites!
Confused by Specifications and Marketing Terms? Try our Guide!
New! Buy Knight-Kit Gear! Shirts, hats, coffee mugs, and more!
(Secret: the shirt has the schematic on the back!)
Visit the Knight Kit Shop

We can make a custom Knight-Kit product for you! Just let us know what you want!
Everything from apparel to wall clocks!



---

Send us an email with your comments, questions, and (hopefully!) Knight Kit stories!

Jim Addie
Knight Kit